FORE HIRE
Women Who Want to Work in Golf Event
A. PUTNAM was honored to be the Official Clothing Sponsor for Fore Hire's Women Who Want to Work in Golf Event in Atlanta, GA. The mission of Fore Hire is to provide a unique opportunity for education, professional development, career advancement and connection to potential employers. It is also designed to increase awareness of the availability of talented women looking to enter the golf business.
We are beyond excited to partner with Courtney Trimble and her team. The alignment we have around highlighting, supporting, and fostering opportunity for women in golf is energizing! Thanks to Fore Hire, the event brought together amazing resources and knowledge for women taking next steps in their careers.
A. PUTNAM crafted three days of outfits for the Fore Hire Team. The versatility of our pieces was a perfect fit for them to flex with each day whether more casual for Top Golf, more professional for AJGA Headquarters, or more sporty for the Golf Club of Georgia Clinic.
Talk about women supporting women. This event was like nothing I've been to before. While Courtney Trimble built this organization, FORE HIRE, to support female collegiate golfers find work in golf, she probably never imagined the powerful network she would foster, for even the sponsors and executives involved. Beyond grateful for this partnership and friendship.
We are thrilled to partner with A. PUTNAM as the Official Clothing Sponsor of our Women Who Want to Work in Golf - Fall Program. Both organizations align on so many levels, and with Ali's collegiate athlete background and her support for women's golf, it's a perfect match. A. PUTNAM's excitement to be part of our event has been overwhelming, and their apparel line is a perfect fit for women seeking a seamless transition from work to the golf course. We are truly grateful for this collaboration.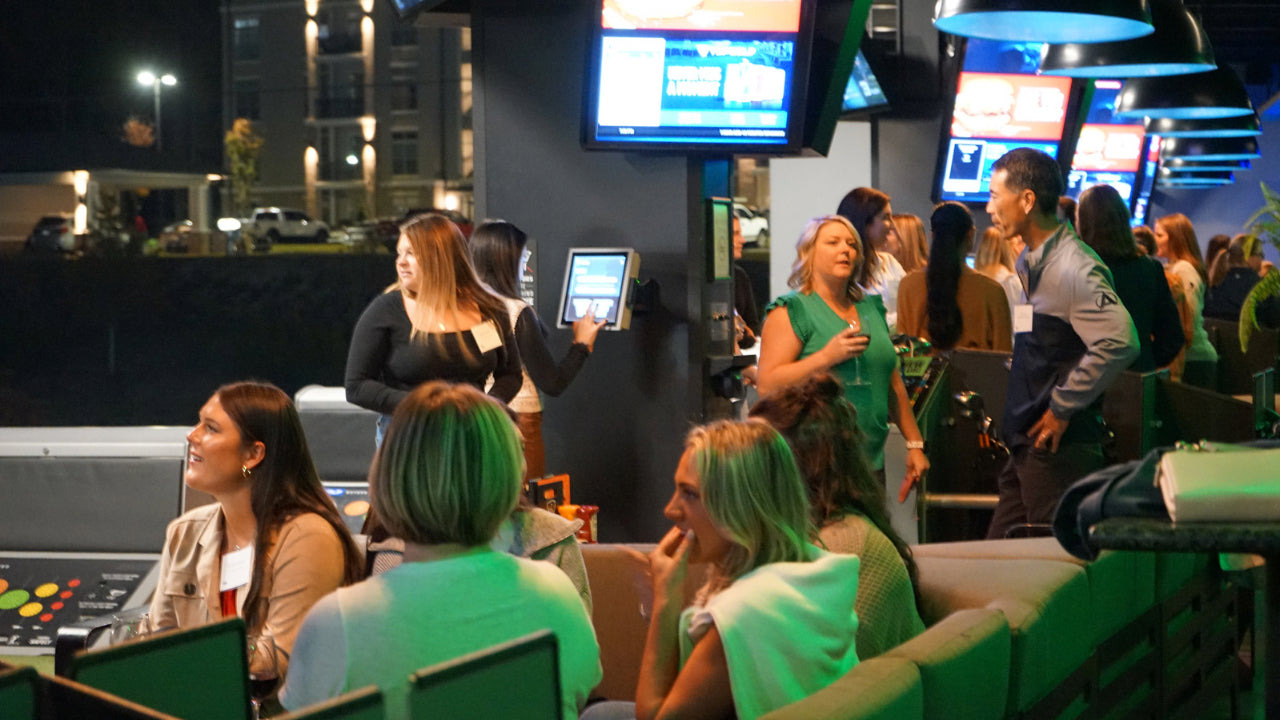 Day 1
Dinner & Fun
What better way to break the ice than generating introductions, conversations and swings at Top Golf. It was a fun evening for the sponsors and women who want to work in golf.
Day 2
American Junior Golf Association Headquarters Hosted Career Day
An exciting day filled of group sessions, panels, and even speed networking!
A career-exploration session
An in-depth look at the many career options available
Roundtable networking sessions and events with key industry professionals
Panel discussions featuring leaders from golf companies and organizations
Headshots, resume updates and mock interview sessions
Day 3
LPGA Golf Clinic & Executives from the Atlanta Area Networking Luncheon
We were all so fortunate to enjoy the morning at the Golf Club of Georgia where we participated in a clinic run by LPGA and PGA instructors.  Women led and so fun.
Learn more about Courtney Trimble
We welcomed Fore Hire Founder and President, Courtney Trimble, to Women in Golf where she shares her journey from player to pro to coach to business woman and advocate for the generation of Women Who Want to Work in Golf.
This series celebrates and showcases women's involvement and achievements in the golf industry. It features interviews with accomplished women in various roles, such as professional golfers, instructors, founders, artists, and more. The series aims to inspire by sharing the unique stories and experiences of these women, highlighting their contributions and the challenges they have overcome.